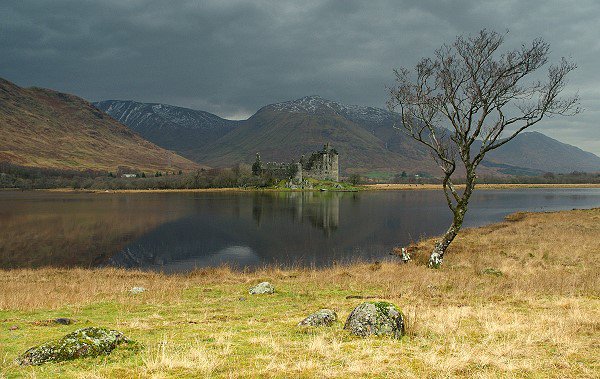 Standing at the head of Loch Awe on what is today a low, rocky mound, but which, in medieval times, was an island, Kilchurn Castle was built, probably, around 1440 by Margaret, wife of Sir Colin Campbell, first Laird of Glenurquhay. Her husband was away at the time - he was a much travelled man, visiting Rome three times and made Knight of Rhodes to boot.

This original 5-storey keep, later extensively improved and extended, was to be well-tested in battle - for instance, enduring a siege by Royalists during the Civil War. Later, although by now already a partial ruin, it was used to garrison Hanoverian troops in the tumultuous days of the Jacobite Risings.

Subsequently, as the Breadalbanes looked increasingly towards Perthshire, it lost all domestic and military importance and even, in 1770, its roof as well! It is said that some of the slates and timbers were used locally - at Craig Lodge, for example, which was built as a hunting lodge.

For many years the castle lay scandalously neglected and overgrown, inhabited only by the occasional eccentric - most recently by the 'Witch of Kilchurn", who was regularly seen getting her pipe-tobacco from Loch Awe Stores.

Today, happily, the fabric of the castle has been successfully restored by Historic Scotland and there is safe access - on foot from the A85 or in season, by pretty little steamer from Loch Awe Station pier. Mysteriously, recently, its walls have echoed again to the joyful sound of singing and dancing, when the local communities - Campbells and Maclntyres among them - recreated the castle's and their own legendary past.

taken - 28/12/2015
Location: Loch Awe, Argyll, Scottish Highlands.
Photographer: Stephen Dutch